St. Croix Restaurants
This page updated September 17, 2021
St. Croix is truly blessed to have a LOT of excellent restaurants.
Ranging from 5 Wine Spectator Award winning restaurants to fast food joints, and everything in between. We really have it all.
We have listed many of our favorite restaurants below.
This is by no means a complete list as we can't eat out 3 meals a day, but it does represent many of the ones we know and love.
If you're diving with us (and why else would you be on this wetsite?) our crew will be happy to tell you about their favorites and steer towards various nightly specials that they know about.
"When you see text in italicized green, those are personal comments about the restaurant by us"
St. Croix Fine Dining Restaurants
40 Eats and Drinks
Strand Street at the Club Comanche Hotel
340-692-0524

A cozy, urban, multi-award-winning Christiansted restaurant focusing on simply great food. They have a passion for sustainability and focus on locally sourced, fresh ingredients to bring the best food to the table, supporting the local island community.
Dinner Monday-Friday
6:00pm - 9:00pm
Brunch Saturday and Sunday
10:00am - 2:00pm
"40 is now an Italian restaurant and it's great. You definitley want to make reservations. It's an unusual week that we don't eat at 40 Eats at least once. Almost always for Saturday Brunch and the occasional dinner too. It's always great"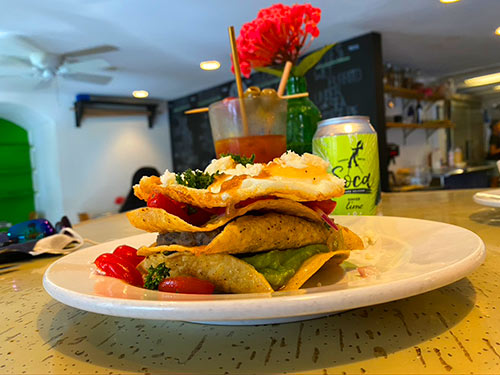 Northside road near Cane Bay, at the Waves at Cane Bay hotel
340-227-3432

Ama is a sustainable seafood restaurant focused on the foodways of the Americas.
They work with local farmers, environmentally responsible fisherman and divers for the direction of their menu.
Dinner Tuesday - Saturday
5:00pm - 9:00pm
"WOW" Just WOW. I can't believe we'had never tried this north shore restaurant. Talk about being blown away! The setting, right on the water at the Waves at Cane Bay Hotel is beautiful. There were some waves crashing and one table even got splashed - and laughed about it. I never knew you could actually SEE the sunset from here during certain times of the year.
The food and service was out of this world. Awesome on every scale. Highly recommend AMA.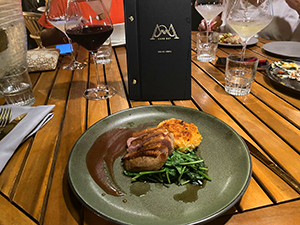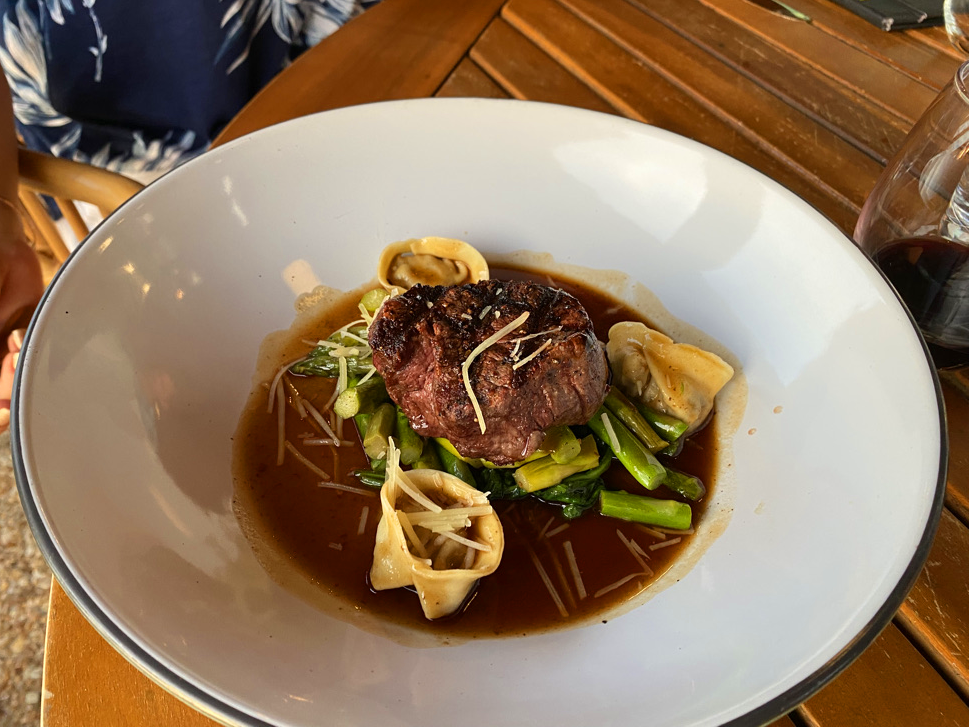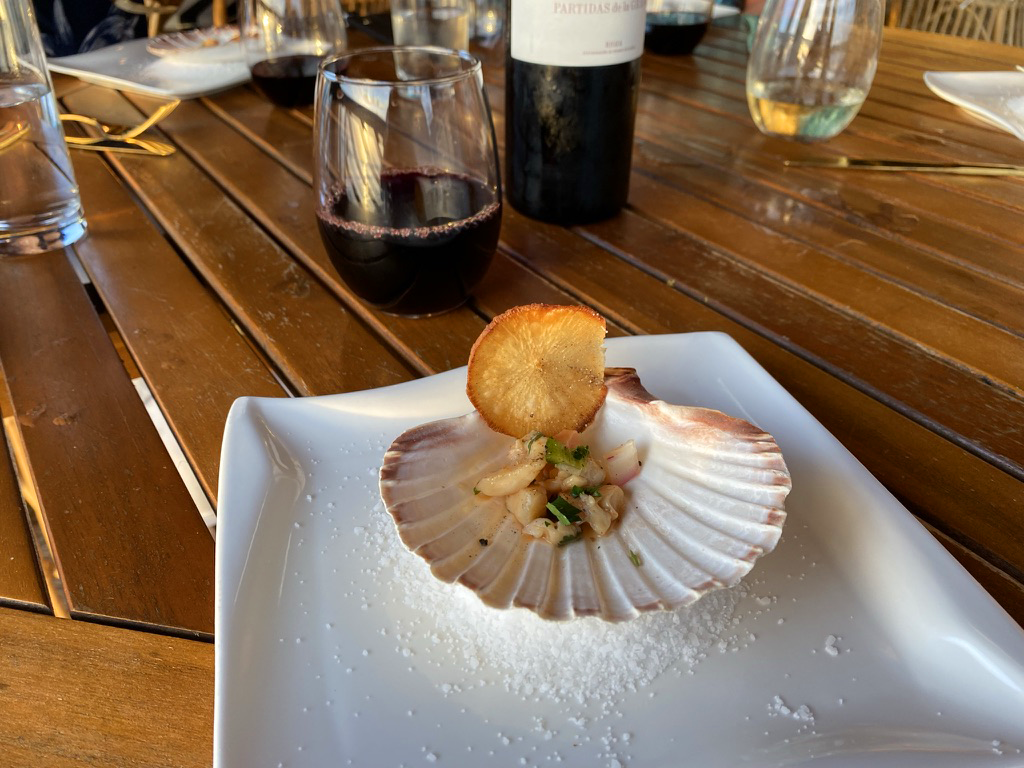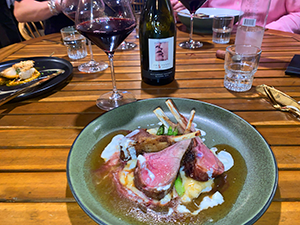 Beachside Cafe
At Sand Castle on the Beach Hotel
340-772-1266
Dining at the Beach Side Café is truly an extraordinary experience. Lunches are casual, breezy, and scrumptious, and dinner is simply a magical moment wrapped up into a perfect evening.
Toes in the sand (literally in the sand) dining featuring award winning appetizers, seafood, steaks, and vegan options with daily dinner and drink specials.
Lunch and early Dinner 7 days a week
11:00am - 7:00pm
SCOTB has recently completely renovated the dining area of the restaurant and it's great. Much more open and still with a killer view of the beach and western shore of the island. You can't get a much better sunset setting.
Sunday Brunch is really good and you can buy a day pass for their pool and beach (if you're not already staying there). I highly recommend it for a getaway Sunday.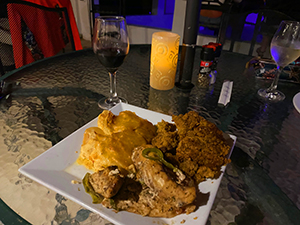 Duggan's Reef
On the east end of St. Croix across from The Reef condos
340-773-9800
Frank Duggan (and now his family) have been providing fine dining and the most reliable source of fresh seafood for well over 30 years.
Reservations HIGHLY suggested
Dinner Tuesday - Saturday
5:30pm - 8:30pm
"One of the very first restaurants I tried out over 30 years ago when I moved here. It was great then and it's still wonderful now. Their Whiskey Lobster is an amazing dish that's not to be missed. Frank is there almost every night overseeing everything even with his daughter Madeleine running things. (She just had a baby so there's another generation of great restauranteurs on the way"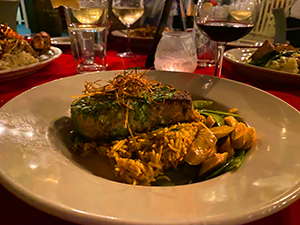 Galangal
Closed Sept 11th - Oct 5th
Church Street in downtown Christiansted
340-773-0076
Galangal specializes in French Asian Fusion cuisine. Their bar features hand-crafted cocktails and an extensive wine list.

Dinner Tuesday - Saturday
5:30pm - 9:00pm
Galangal has been a favorite of ours for many years. The attention to detail that Arthur and Gregory put into this restaraunt really shows. The food is always great as is the service and to make things even better they have a wonderful wine list including some great German wines.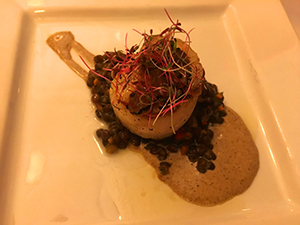 Galleon Steaks and Seafood
In Green Cay Marina east of Christiansted
340-244-6007
Waterfront Dining at Green Cay Marina. A go-to location for Steaks and Seafood in St. Croix since 1984.

Dinner Tuesday - Saturday
4:00pm - 9:00pm
"As mentioned in the description above the Galleon has been on St. Croix since 1984. It was closed for a few years and recently re-opened with a new (and fabulous) Chef. The good has always been great but it's world class now. The tuna on the menu is amazing and there's always some wonderful specials. Live music occassionally and a special wine pairing dinner every other Sunday night"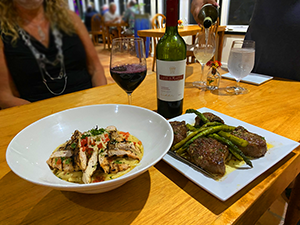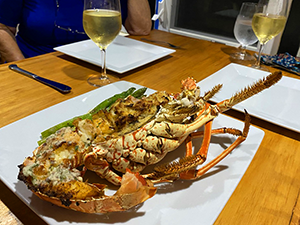 Hamilton's
At the corner of Company and Queen Cross Streets in Christiansted
340-773-5393
St. Croix's newest restaurant and it's very worthy of being in the "fine dining" category though their prices are really good. Gary the Manager and Sommelier is very knowledgeable about the extensive wine list they have.
"We were at Hamilton's on their first night open a few months ago and have been back several times since it's they always rock it. The food is wonderful, the service is spot-on, there's a huge wine list and Sommelier Gary is always ready to help you with it. And now, with bar seating back we just dined there last night and had their drink special which was absolutely awesome."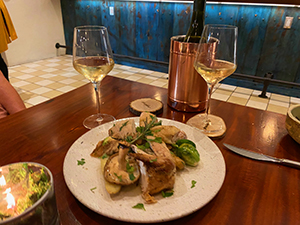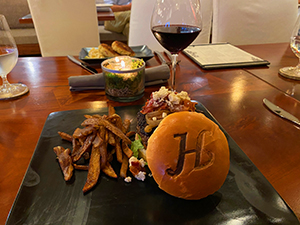 Hamilton's website coming soon
Hamilton's Facebook page coming soon
Hamilton's Instagram feed coming soon
Rum and Wine Bar Restaurant

Strand Street in Christiansted at the Club Comanche Hotel
340-643-4RAW (4729)
The first Japanese teppanyaki steakhouse-inspired restaurant on St. Croix! R.A.W.'s historic building was originally used to hold people coming off the boat and awaiting medical examinations before being allowed to enter the island (notice the coral walls and bars on the windows), but today you can come savor craft cocktails, a wide array of rums & wines, a teppanyaki section, sushi, popular starters, and delicious desserts. Plus, Sake Bombs! Reservations available. Check Facebook and Instagram for updates and our menu. Inquire about hosting your next event at R.A.W. – on-site catering available!
Dinner Thursday - Monday
6:00pm - 10:00pm
I love everything about this restaurnant, from the historic setting, to the wonderful food and drink and great service. My favorit is the Snow Crab legs (pictured below).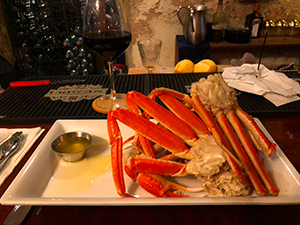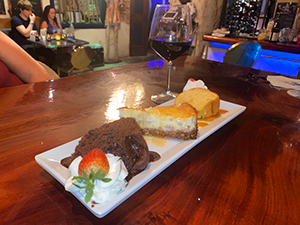 Savant
Hospital Street on the eastern edge of Christiansted just beyond the Fort
340-713-8666
Savant's menu is eclectic with iconic house favorites. They buy fresh fish and lobster daily off the boats from the local fishermen. The fresh fish has three preparations on the menu, is incorporated with curries, enchiladas, fajitas and with our daily specials. We focus on farm-to-table incorporating local produce from island farmers–spicy mixed greens, tomatoes, cucumbers, edible flowers, and herbs all combine to create healthy, fresh and delectable dishes.
Dinner Monday - Saturday
6:00pm - 10:00pm
"Consistency has been Savant's claim to fame for years. It is consistently one of the best restaurants on St. Croix. A huge list of nightly specials adds to an already great menu. The courtyard in the back is great during cooler months and there's always the air conditioned front dining room for those warmer summer months"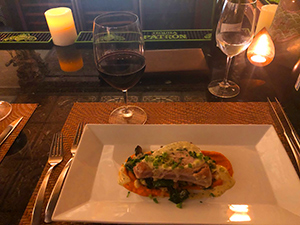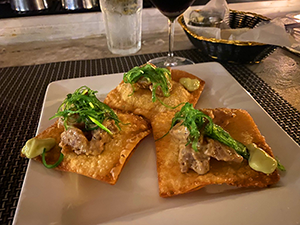 Six Nine Restaurant and Bar

Closed thru October 11th
In the Strand Square Courtyard right behind SCUBA's west shore dive shop
340-772-6969
Frederiksted's newest dining destination! Romantic outdoor courtyard dining featuring hand cut steaks, fresh seafood, homemade pastas and an extensive wine list. Lunch is more casual featuring burgers, fish tacos, lobster carbonara and other fun options.
Lunch Tuesday - Saturday, 12:00pm - 3:00pm
Sunday Brunch, 11:00am - 4:00pm
Dinner, Tuesday - Saturday, 6:00pm - 9:00pm
Everything is great but their fries are out of this world delicous.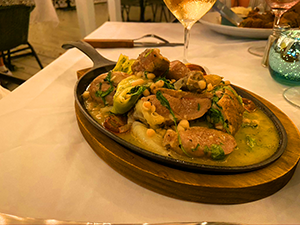 Too Chez

Queen Cross Street in downtown Christiansted (only a block from SCUBA!)
340-713-8888
A wonderful restaurant run by the Kendrick family who are St Croix restauranteur icons. Classic, flavorful, uncomplicated. Dine in their beautiful open-air courtyard or in the historical Danish modern air conditioned dining room.
Dinner Tuesday - Saturday
5:30pm - 8:30pm
"Knowing the Kendrick family's reputation for fine dining we were at Too Chez the very first night they were open and they knocked it out of the park (not easy on a first night when you'd expect some hitches). We've eaten there almost weekly since and it's been excellent every-single-time."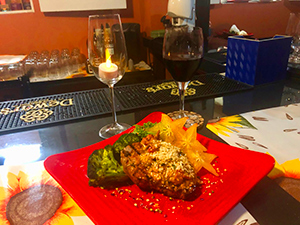 Mid Range St. Croix Restaurants
Blues Backyard BBQ

On Northside Road (RT 75)
340-514-2541
Award Winning BBQ Brisket, Pork & Ribs. Also serving 1/2 lb. all beef Burgers (voted Best in the VI St. Croix 2014, 2015&16) Hot Dogs, Fish, Burritos, Homemade Chicken Pot Pies, Italian Sausages fabulous homemade desserts and daily specials. Live music Fridays 5-9pm Call for schedule of Friday & Saturday (afternoon) Backyard concerts.
Lunch and Dinner, Tuesday - Saturday
12:00pm - 7:00pm, Thursday and Fridays till 8:00pm
Blue Water Terrace
East end road at Sierra Verde in Cotton Valley
340-227-6340
Blue Water Terrace offers a deli with sandwiches and salads, a bar with a creative happy hour menu and drink specials, lots of interesting dinner options and steak and seafood with all the fixings. That's not all! Brunch with eggs, waffles, stuffed French toast and omelets will be served from 9am to 3pm every day, and there is also a coffee bar with specialty coffee drinks and shakes, homemade ice cream, gourmet pizzas and Lori's famous fried chicken.
Dinner Thursday - Monday
5:00pm - 9:00pm
Brunch Sunday
10:00am - 3:00pm
"Huge servings of good food with a great view"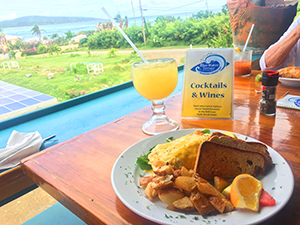 The Bombay Club
On King Street in downtown Christiansted in a cool historic building.
340-773-1838
Dine in air conditioned comfort for lunch or dinner. Daily specials include fresh lobster, soups, quiche, large freshly prepared salads, pasta, fish and more.
Lunch Tuesday - Friday
11:00am - 2:00pm
Dinner Nightly
5:00pm - 9:00pm
"Nothing like dining in history. It's set back into an historic buidling that is beautiful. Very good food and it's airconditioned"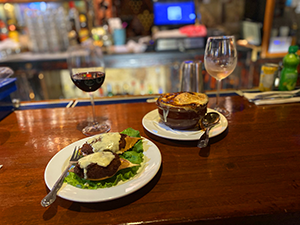 Breakers Roar Tiki Bar
At the eastern end of the Christiansted Boardwalk facing the Fort


340-773-6330


Breakers Roar is an authentic nautical Caribbean Tiki Bar featuring 30 unique and flavorful Tiki cocktails made from local juices, rums and spices. Their food menu includes wings, egg rolls, Lo mein, noodle bowls, and fried rice.

Dinner nightly
6:00pm - 12:00am
Brew STX


Right on the Christiansted Boardwalk
340-719-6339
Good food and a great place to people watch everyone strolling along the Boardwalk.
Lunch and Dinner, Daily
11:00am - 9:00pm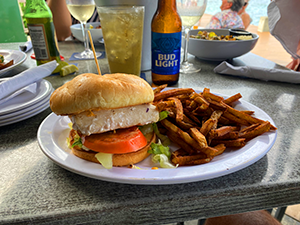 Cafe Christine
Closed till November 2nd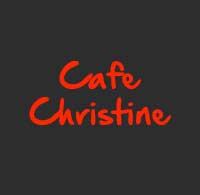 In the Apothacary Courtyard on Company Street in Christiansted
340-713-1500
Specializing in homemade French-inspired cuisines, using local products.
Lunch Tuesday - Friday
11:30am - 2:30pm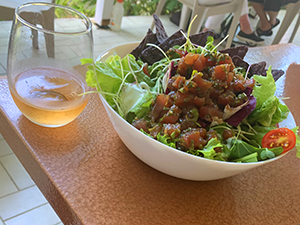 Cafe Fresco


Courtyard in the historic Pentheny building on King Street in Christiansted
340-719-0126
Breakfast or lunch, that you'll feel good about eating, you've come to the right place.
Café fresco has the tastiest, freshly made lunches and a service you'll come to expect and enjoy.
Breakfast and Lunch, Monday - Friday
8:30am - 2:30pm
Caroline's
At the east end of the Christiansted Boardwalk in the King Christian Hotel
Tropical oceanfront brunch & breakfast restaurant overlooking historic Christiansted harbor and Fort Christian
340-773-6330
Breakfast Daily,
7:00am - 2:00pm
Lunch Daily
11:00am - 2:00pm
"We tried this new restaurant for lunch on their first day open. It's not often that a restaurant's service and food is on-point from the very first day but they did it. Great food and service. A cool new option for breakfast and/or lunch in Christiansted."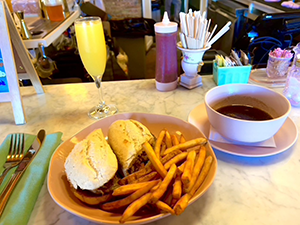 Castaways
East end road
340-719-0019
Castaways is a bar and restaurant that is for locals and tourist alike. Great food and drinks at great prices, with an atmosphere that feels like a pub with an ocean view.
Located on the East end of St. Croix, offering classic American food and daily specials to mix things up. Our open air bar has happy hour prices and something going on all day and night. Play horse shoes, foosball, darts, or watch your favorite team on game day, while enjoying great food and a Buck Island view.
Lunch and Dinner, Wednesday - Monday
1:00pm - 11:00pm
Common Cents Pub
Closed through 2nd week of September
On Company Street in downtown Christiansted
340-713-2510
Hang out in cold a/c, watch your favorite sports team, and enjoy our daily events and specials! Great food, cold beer and creative cocktails!
Dinner, Monday - Saturday
5:00pm - 11:00pm
"Good food and drinks in a sports bar vibe atmosphere. They also have karoke and trivia nights"
Dashi
In the Caravelle Arcade just behind SCUBA
340-773-6911
The Virgin Islands' Best Sushifresh from the sea to your plate in the heart of Historic Christiansted. Sashimi, Nigiri & Dozens of Delectable Rolls!
A Japanese restaurant type of establishment offering authentic Japanese food.
Most customers rave about the Cruzan Lobster Roll. Spicy tuna rolls are some of the best in town.
Dinner, Tuesday - Saturday
3:00pm - 8:00pm

Flyers Bar and Grill
At Salt River Marina
340-772-3233
Located in salt river marina ready to serve the people of st.croix and visitors alike. Fresh seafood,pasta, and ice cream
Dinner, Tuesday - Saturday
6:00pm - 9:00pm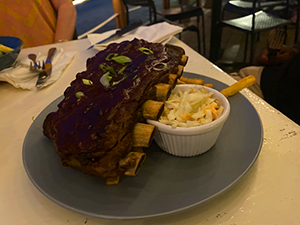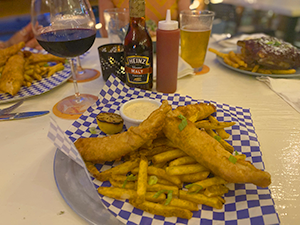 The Fred
At The Fred resort on the waterfront in Frederiksted
340-777-3733
Eat With Fred is an elegant yet casual beachfront dining venue with beautiful vistas of St. Croix's western shore including our world famous sunsets. Please come as you are, straight from a fun day at the beach or dress up in your most glamorous island attire.
Breakfast, Lunch, and Dinner, Monday - Friday
8:00am - 8:00pm
Brunch and Dinner, Saturday and Sunday
11:00am - 8:00pm
"Hotels are not always associated with great food but this one sure is. The Fred hasn't been open long, and their restaurant even less, but it's been great from the first plate they served. And you can't beat the view"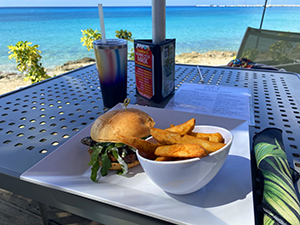 Goat Soup and Whiskey

Closed until November'ish
East end road at the Coakley Bay condos
340-773-3333
The third and newest addition to the Goat Soup and Whiskey restaurants.
The St Croix location is open seasonally, December-April. The Goat features three homemade soups a day, handcrafted cocktails often using fresh local fruits, fantastic wine list, house cut steaks on our after 5 dinner menu, fresh seafood specials daily, a variety of salads and sandwiches for lunch, and a delicious Sunday Brunch.
The Goat values their friendly, customer-service oriented staff and their made from scratch to order dishes. Come meet the family! Reservations are recommended.

Lunch and Dinner, Thursday - Tuesday
11:30am - 9:00pm
Sunday Brunch 10:30-2:30
with Lunch and Dinner to follow.

"You can't get a much better view for your dinining experience, The food and service is =great too"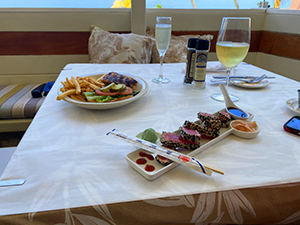 The Landing Beach Bar
At Cane Bay Beach
340-718-0362
Run by the people that bring your Leatherback beer which is locally made on St. Croix. Most locals know this as Leatherback Landing.
Drinks made just for you and a serious beer list accompany a fresh and diverse menu perfect in all seasons. Local cuisine at The Landing means a delicious sampling of American bar food, with a seafood flair and plenty of vegetarian and vegan options.
Lunch and Dinner, Wednesday - Monday
11:00am - 8:00pm, Sunday till 6:00pm
Leatherback Brewing Company
Right next to the airport off of RT 66 just west of RT 64
340-772-BEER
Salads, wraps, pizzas, and more. Plus you get to try the many awesome Leatherback Beers that are brewed on site.
Open Daily 12:00pm - 8:00pm
Le Cuisinier
At Club St. Croix condos just west of Christiansted
340-773-COOK
Longtime local St. Croix Chef Jamal with help from his Mom, Janice, have opened this new restaurant which serves up breakast, lunch, and dinner 7 days a week plus Sunday Brunch.
Breakfast, Lunch, and Dinner Daily
8:00am - 11:00pm, Sundays till 2:00pm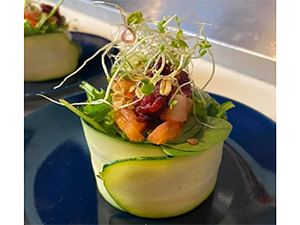 Louie and Nachos
On Strand Street in Frederiksted a couple of blocks from SCUBA
340-772-5151
A waterfront bar and restaurant on the west shore with an awesome view. Tacos, nachos, burgers, salads, Sunday brunch and more. Open 7 days.
Open Daily
11:00am - 8:00pm
"One of the best views on the west end of the island and good food too".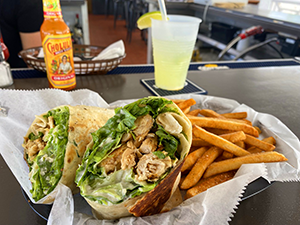 Maria's Cantina
Gallows Bay about a mile from Christiansted
340-713-0222
Mexican food
Lunch and Dinner, Tuesday Saturday
11:00am - 9:00pm, Saturdays till 10:00pm
The Mill Boardwalk Bar Brick Oven Pizza
Right on the Christiansted Boardwalk in a restored sugar mill
340-643-MILL (6455)
Simply put, The Mill has exceptional harbor views, friendly service, and the best pizza on St. Croix! This open air, waterfront pizzeria is best described with these notes: open kitchen, local wood fired pizza, custom built brick oven, fresh dough made in-house daily, charred and chewy crust, and Cosa Nostra cheese. More than just pizza, The Mill offers gluten free 'anti-pizza' menu items, from Yellowfin tuna poke, kale salad, and rum cake ice cream sandwiches. Enjoy amazing sunsets, an eclectic mix of locals and visitors, and fast and friendly service. That pretty much sums it up! Walk-ins welcome. Takeout available.
Lunch and Dinner Daily
11:00am - 9:00pm
"I'm sorry New York and Chicago but we have the best pizza anywhere right here on the Christiansted Boardwalk"
Nate's Boathouse
On the Christiansted Boardwalk at the Holger Danske Hotel
340-692-6283
Breakfast, lunch, and dinner 7 days a week.
They have a bottomless champagne Sunday brunch.
Live music a couple of night a week.
Breakfast, Lunch, and Dinner Daily
8:00am - 9:00pm
Nauti Bar and Grille
East end road just past the fort
340-718-0544
Nauti Bar and Grille is an air conditioned sports bar inside, with an awesome outdoor patio area with games and a big screen TV. You will enjoy the Caribbean breeze while sitting on the water of Gallows Bay, eating delicious Texas BBQ and
getting Nauti!
Dinner Daily, 4:00pm - midnight
No Bones Cafe

Gallows Bay next to the ferry dock
340-773-2128
Soups, salads, sandwiches, steaks, seafood, pasta. Lunch and dinner.
Lunch and Dinner, Tuesday - Friday
11:00am - 8:30pm
Dinnder, Saturday, 5:00pm - 8:30pm
Nok Nok Noodle

Company Street in Christiansted about a block and a half from SCUBA
340-713-6688
A ramen restaurant inspired by one of Japan's popular fast foods. Recognized by homemade noodles and broths that are prepared for hours, NOK NOK Noodle brings a slurp-worthy meal packed with plenty of lip-smacking deliciousness to St. Croix, USVI.


Lunch and early dinner, Monday - Friday, (Note Closed on Tuesdays for Sept and Oct)
11:30am - 7:00pm
Takeout only for now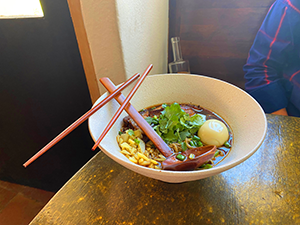 Off the Wall
On the water on the east end of Cane Bay
340-718-4771
A pretty cool little beach bar right on the water at Cane Bay. A favorite for both St. Croix locals and island visitors, delicious meals prepared to order from fresh ingredients. Experience friendly service at the bar, and a chance to meet a congenial crowd at perhaps the best view on the entire North Shore.
Lunch and Dinner Saturday - Thursday (Closed Friday)
11:00am - 9:00pm
The Palms at Pelican Cove

At the Palms at Pelican Cove Resort
340-718-8920
The natural setting of The Palms Restaurant underscores the award winning flavors coming from the kitchen. The atmosphere can be dressed up or down; Ocean view dining is available in their open-air beach side pavilion or in the Dining Room. The Palms Restaurant is a favorite among locals and has very reasonable prices.

Breakfast, Lunch, and Dinner, Daily
11:00am - 9:00pm
Friday and Saturday till 10:00pm
Parrot Fish
BRAND NEW

On Strand Street less than a block from SCUBA
340.......
The grand opening is tonight.
The same awesome Chef that brought us the Galleon (see their listing above under Fine Dining) is opening a new restaurant in the heart of Christiansted.
Lots of apps (Mezze plate, Edamame, Tuna Nachos, Meatballs, Shrimp Egg Rolls)
Tacos, Salads, Ala Carte sandwiches and burgers
Dinner Thursday - Monday (Closed Tuesday and Wednesday)
5:00pm - $$$
Website Coming Soon
Facebook Page Coming Soon
Instagram Feed Coming Soon
Rise Caribbean
Temporarily Closed
On Strand Street in Frederiksted right on the waterfront
340-725-7473
The first CoWorking space on St. Croix. A lovely restaurant and art gallery all open to the public.
Check out Rise Caribbean's Facebook Page
Check out Rise Caribbeab's Instagram Feed
Rowdy Joe's
Northshore road (RT 80 @ RT 73)
340-718-0055
Rowdy Joe's One Stop Deli shop is open! Thursday-Sunday, Noon-7:00. Kitchen closes at 6:30. Offering sandwiches, cold beers, frozen drinks, ice cream and more. Next week we will be bringing in some groceries for your North Shore convenience.
Rowdy Hour is 4:30-6:30. Drink specials and two of your old Favorite menu items will be available. Fried Edamame and Blackened Fish Tacos!
Lunch and early Dinner, Thursday - Sunday
12:00pm - 7:00pm (Kitchen closes at 6:30p)
Rum Runners Steaks and Seafood

Closed through September 22nd
In the Caravelle Hotel facing the Christiansted Boardwalk
340-773-6585
Open for breakfast, lunch, and dinner Thursday through Monday plus Sunday Brunch.
There's also the attached Deck Bar serving light bites and great drinks with a wonderful view.
Right on the Boardwalk at the Caravelle Hotel in Christiansted.
This is where you'll find the SCUBA crew a LOT. Our boat docks right in front of the hotel.
Lunch, Thursday - Monday
11:00am - 3:00pm
Dinner, Thursday - Monday
5:30pm - 8:30pm


"One of my favorite restaurants on St. Croix. Not only is it really really convenient to our dive shop but they have consistently (for over 20 years now) served great food with a wonderful view of the Boardwalk and Christiansted harbor. The picture shown above was a Sesame Crusted Yellow Fin Tuna that had been caught earlier in the day. It was amazing."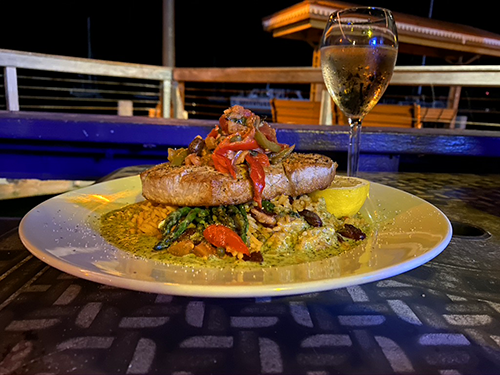 Rhythms at Rainbow Beach
Right on the water about a mile and a half north of Frederiksted
340-690-9282
One-of-a kind sunsets and beautiful views! Relax on the beach, catch a live performance on their famous stage by the islands best musicians, dance, eat great fare, jet ski, snorkel, and food is great too.
Lunch and Dinner, Daily
11:00am - 7:00pm
"I pretty much love all beach food type of places but Rhythms elevates it with really good food. Great drinks and a killer white sand beach too."
Salt Great Pond

Closed for the month of September
A little hard to find but worth it. Over looking Great Salt Pond on the beautiful south shore of St. Croix. Estate Petronella.
340-718-7258
Locally inspired cuisine with a new twist and the freshest ingredients.
Locally crafted beer, great wine selection, fresh squeezed cocktails. Homemade desserts.
Brunch, Friday - Monday
10:00am - 3:00pm
Dinner, Friday - Monday
5:00pm - 9:00pm


"While Salt at Great Pond does some wonderful dinners, it's their Brunch that I absolutley love. Pretty much a once-a-week thing for me."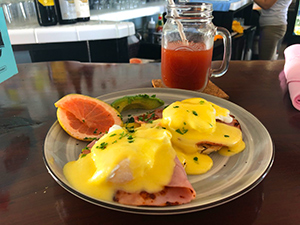 Sharkey's Baitstand
On east end road next door to Seaside Market
340-719-9935
Deliciously cold adult beverages, creamy frozen drinks for all ages and real good food! From Burgers, Wraps, Chicken & Fish Baskets to Tex-mex specialties like Quesadillas, Fajitas and Tacos. Serving great apps like Home Made & Hand Battered Cheese Sticks, Mushrooms and Calamari and Island Famous Chicken Wings served by our friendly staff while you watch your favorite sporting event, play Bingo, sing Karaoke or dance to our House DJ's.
Lunch and Dinner, Daily
11:30am - 11:00pm
Friday, Saturday, Sunday till midnight
Shupe's on the Boardwalk
On the Boardwalk
340-773-3400
Handcrafted burgers using the highest quality cuts of beef to ensure exceptional flavor that is fresh, never frozen. Also, offering hand cut fries, house made veggie burgers, and extensive selection of chicken wings & sandwiches.
Lunch and Dinner, Daily
11:00am - 10:00pm, Sundays till 9:00pm
Sion Farm Distillery
In Sion Farm, (obviously). Google maps will get you to them as it's hard to describe here
340-690-9322
Not only is the food good but you might be able to see Mutiny Island Vodka in the making right before you eyes. There's a great selection of specialty drinks available that change to match the flavors of whatever "limited edition" infusions they have available.
Lunch and early Dinner, Monday - Friday
11:00am - 6:00pm
It's not only a fun lunch spot where you can sometimes see Mutiny Island Vodka being distilled right before your eyes but you can often try whatever new limited edition infusions that they're constantly coming up with. My favorite is Smoked Pepper.
Dinners are coming soon!"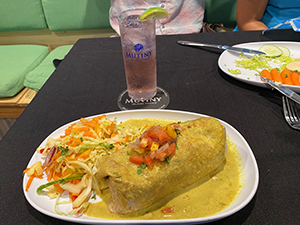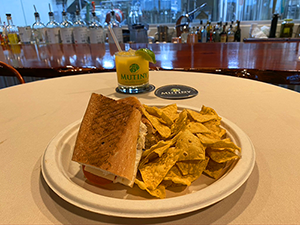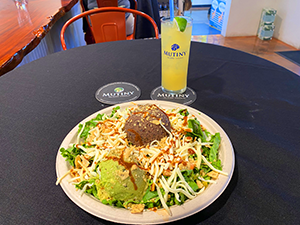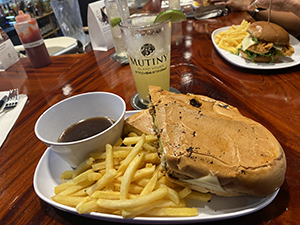 Smoke STX
On the south end of Strand Street in Frederiksted next to Louie and Nachos
340-713-9494
BBQ restaurant and bottle shop.
Lunch and Dinner
Monday - Wednesday, 11:00am - 6:00pm
Thursday - Sunday, 11:0am - 8:00pm
Smoke STX and Turtles Deli have joined forces so you can order from both restaurants in one location.
St. Croix Cellars
On Queen Cross street in Christiansted a block from SCUBA
734-757-8240
Island-made wine crafted from the worlds finest grapes. Varietals for every palate. Peruse their website, explore their wine clubs, tour their winery, or come into their tasting room to experience St Croix's only winery. Fine wines and small plates can be expected.
Small Bites, Tuesday - Saturday
3:00pm - 7:00pm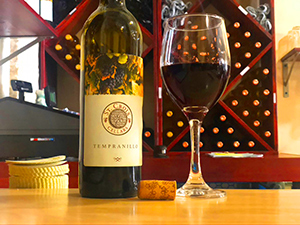 Tap Deck Bar and Billiards
Closed through October 6th
Upstairs at the head of the pier just above SCUBA's west shore dive shop
340-773-5227
Enjoy outdoor balcony views of the Frederiksted Pier or Indoor AC!
Tap Deck features a creative small bites menu, including several vegan options, along with the West End's largest draft beer selection and craft cocktails! Sushi night is Wednesday and daily chef specials are posted on Facebook!
Lunch and Dinner, Daily
3:00pm - 11:00pm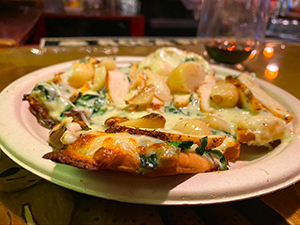 Toast Diner
In the Pan Am Pavilion across the street from SCUBA
340-692-0313
A great place for breakfast and/or lunch. Venezuelan themed arrepas, salads, sandwiches, breakfast items, and killer bloody marys.
Open 7 days a week
Breakfast and Lunch, Daily
8:00am - 2:00pm
"This is one of the toughest restaurant seats to get on St. Croix because the food is so good, and the place is a bit small. It's well worth the wait though. Check out those Bloody Marys in the photo above, shrimp, bacon, olives, pickles, and still room for the liquid"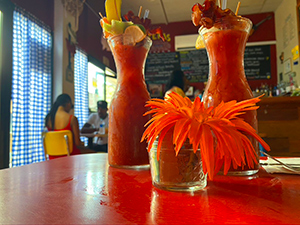 Ziggy's
East end road
340-773-8382
The best gas station food in the world. Whether you are having one of their traditional island dishes, some good old fashion BBQ, or one of their delicious sandwiches, you will not be disappointed!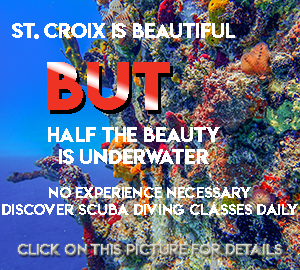 Budget St. Croix Restaurants
Bootstraps Bar and Grill

In King's Alley just off of the Boardwalk
813-495-3244
Boot Straps Bar And Grill Creating Southern New Orleans styled cuisine with a little island flair".
Courtyard with plenty of room in respect to social distancing
Serving warm smiles and cold drinks . Are you hungry or thirsty ?
Lunch, Wednesday - Sunday
10:00am - 2:00pm, Sundays till 4:00pm
Dinner, Wednesday - Saturday
5:00pm - 9:00pm
Cheeseburgers in America's Paradise
East end road just beyond Green Cay Marina
340-718-1118
Serving lunch and dinner everyday. Daily specials and fresh seafood. Full bar and specialty frozen drinks. Live entertainment on the weekends. Casual atmosphere and moderate prices.
Lunch and Dinner, Daily
11:00am - 9:00pm
The Courtyard Juices and Fitness Center
Across from Government House in downtown Christiansted
340-773-7728
The Courtyard offers a large variety of organic healthy juices, smoothies, coffee, baked goods, breakfast and lunch.
Breakfast and Lunch, Tuesday - Saturday
8:00am - 3:00pm, Saturday till 4:00pm
Lost Dog Pub
On Strand Street in Frederiksted about a block from SCUBA's west shore location
340-772-3526
Lost Dog Pub located in downtown Frederiksted is located one block from Frederiksted Pier. Serving the best pizza in town and now a full dinner menu, Lost Dog has been a St. Croix institution for over 20 years.
Dinner, Nightly
5:00pm - 1:00am, Friday and Saturday till 2:00am
Pizza and a cold beer after a night dive at the Frederiksted Pier is awesome!!!
Luncheria
In the Apothecary Courtyard on Company Street
340-773-4247
Great and cheap mexican food and the best frozen margaritas on the planet. Hint: Don't fall for the cheapie house margaritas because after three or four of them you'll see things that aren't there. Lenny the owner is usually the bartender and chef and is always funny.
Lunch and Dinner, Monday - Saturday
11:00am - 9:00pm
"This may be the first restaurant I ever dined at on St. Croix, over 35 years ago, and it's still one of my favorites. The frozen margaritas are absolutely the best on the planet. Lenny makes a great top shelf on-the-rocks margarita too but it's the frozen one that's killer in my opinion. Love the food too."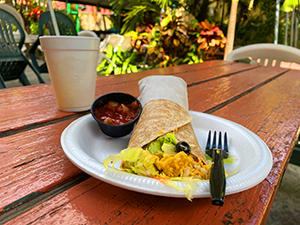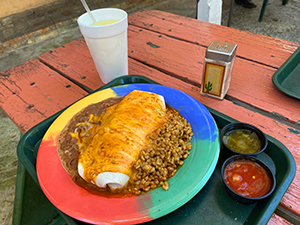 Polly's at the Pier
Right across the street from the Pier and next door to SCUBA's west shore dive shop
340-719-9434
Breakfast and lunch with a wonderful view of the Frederiksted waterfront. Enjoy breakfast and lunch plus their world-class coffee drinks, organic teas, ice cream, local juices, and refreshing adult beverages and beers.
Breakfast and Lunch, Daily
8:00am - 3:00pm, Sunday till 1:00pm
"A wonderful breakfast or lunch spot rigth on the west shore. Many healthy options and plenty of decadent ones too."
Sunny Shore Up Food Truck
At Cane Bay Beach
340-690-3401
Espresso, pastries, burritos, bagels, vegan, local ingredients, sunny mimosa's
Breakfast Food Truck
Tuesday, Thursday, Saturday and Sunday
8:00am - 12:00pm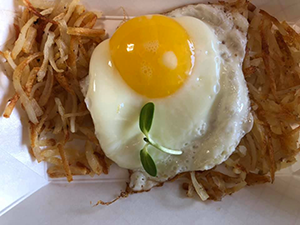 Turtles' Deli
On the south end of Strand Street in Frederiksted just below Louie and Nachos
340-772-3676
Great deli on the waterfront if Frederiksted for a post dive sandwich. And their sandwiches are huge!
Monday - Wednesday
11:00am - 6:00pm
Thursday - Sunday
11:00am -8:00pm
Smoke STX and Turtles Deli have joined forces so you can order from both restaurants in one location.
Twin City Coffee House
On Company Street just west of the Company House Hotel
340-773-9400
Twin City Coffeehouse and Gallery is located on Company Street in Christiansted and features the best quality beans from around the world. Local, organic fruits and vegetables are used to prepare healthy and hearty breakfast and lunch for you. The covered sidewalk seating let's you take in the scene while the courtyard offers you peace and privacy. Inside, enjoy the air conditioning and internet access.The coffeehouse is open Monday thru Saturday 7am til 3pm, and in the evenings for special events.
Breakfast and Lunch, Monday - Friday
6:30am - 2:00pm
Saturday 7:00am - 12:00pm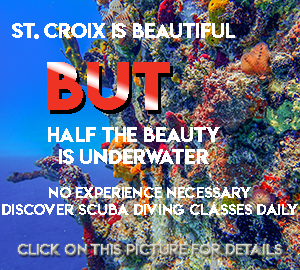 Local St. Croix Restaurants
Bayside Kitchen
On The Boardwalk right next to the Seaplane base
340-277-1209
Specializing in Caribbean street food & beverages including sea food, curry chicken, beef and pork.
Cast Iron Pot
Northside road a few miles west of Christiansted
340-692-2477
Hearty, mid-to-upper-scale dishes are prepared in a family-style atmosphere. Burton Peterson, our award-winning, local chef, prepares our dishes with love and passion. He cooks 'land to sea' dishes such as Savory Stewed Chicken, Salt Fish Gundy, Red Peas Soup, Catch-of-the-Day Snapper or Mahi Mahi in a Creole sauce, fresh Local Steak, and mouth watering Coconut Bread Pudding for dessert.
Lunch and early Dinner, Tuesday
11:30am - 5:00pm
Lunch and Dinner, Thursday - Saturday
11:00am - 8:30pm
I don't know if you can find a more welcoming restaurant here. Burton, the owner is great and stops by and visits with every table. The food is very good, and if you're really lucky, they'll have some Johnny Cakes available. Best on the island.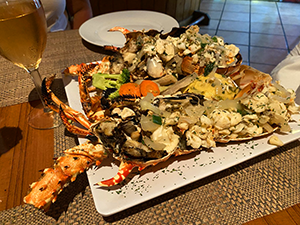 El Sol
In Peter's Rest near Sion Farm
340-778-6986
Caribbean & Spanish dishes with daily specials from freshly caught fish, local meats, vegetables and more flavors of the Caribbean than any other.
Lunch and Dinner, Daily except Wednesday
11:00am - 9:00pm, Sunday till 8:00pm
Ital in Paradise
On Queen Cross Street in Christiansted about two blocks from SCUBA
340-718-4825
Vegan and fish dishes. Daily combo plates
Lunch and Dinner, Daily exept Sunday
12:00pm - 9:00pm
Kim's
On King Street about 3 blocks from SCUBA in Christiansted
340-773-3377
About as local as you can get. Small place right on King street. Fresh fish including lobster, chicken, stew beef, curry goat, and ox tail.
Breakfast and Lunch, Monday - Saturday
9:00am - 5:00pm
Dinner, Monday - Saturday
6:00pm - 7:00pm
La Reine Chicken Shack
Across from the remains of the Villa LaReine shopping center on North Side Road (RT 70) a couple of blocks north of the intersection with the Centerline Rd (RT 75)
340-778-5717
Lunch and early Dinner, Daily
Monday - Wednesday, 10:30a - 6:00pm
Thursday - Saturday, 10:30am - 8:00pm
Sunday, 10:30a - 4:00pm

This place is an icon. They're famous for their roasted and stewed chicken but they also have beef and goat and local seafood.
Singh's Fast Food
On King Street at the western end of Christiansted
340-773-7357
Very local and very good food. They're especially known for their Roti but there's a lot more from which to choose.
Monday - Saturday
8:00am - 9:00pm
Two Plus Two Restaurant and Nightclub
On northside road (RT 70) a few miles west of Christiansted.
340-718-3710
Steaks, salmon, chicken and more.