PADI Assistant Instructor Course
The PADI Assistant Instructor course takes PADI Divemaster training a step further by teaching certified assistants how to introduce new knowledge and skills independently, or with minimal supervision. The course enhances abilities as an instructional assistant and provides candidates with practical experience in teaching knowledge and skill development portions of various PADI courses. Candidates also learn to conduction open water dives for the courses they can teach, such as the Peak Performance Buoyancy specialty. The course familiarizes candidates with PADI Standards, administrative requirements and certification procedures and prepares them for additional PADI Instructor training.
Becoming a PADI Assistant Instructor is a good option for PADI Divemasters who want to gain additional knowledge and skills before finishing an IDC or who must delay attending a complete IDC. Some individuals may find it helpful to become familiar with the PADI System through the assistant instructor course before going on to an OWSI program. Some assistant instructors many not become instructors for a variety of economical, education and personal reasons, but still may work as dive professions and hold key positions within the dive industry. They can provide many instructional and noninstructional services for dive centers and resorts, which allows instructors to concentrate on teaching core programs.
The Fun Part
It's about life transformations—both yours and those around you.
The fun part of instructor training is interacting with course participants while creating friendships that continue long after the course concludes.
You'll begin networking with other professionals and begin to explore PADI Pro Diving Jobs worldwide. You'll also have the opportunity to continue your professional education by participating in specialty instructor courses, which train you to teach specialties after instructor certification.



The Challenging Part
The challenging part of this course is your personal commitment to the training. The course requires you to complete all the self-study Knowledge Reviews before the course begins and to prepare daily assignments for teaching presentations. Organisation and dedication are key.
What You Learn
During the IDC eLearning you will be introduced to:
Dive Theory for Dive Leaders
System Overview
Learning and Instruction
Discover Scuba Diving & Experience Programs
Open Water Diver Course
Risk Management & Legal Considerations
Managing Risk
Quality Management & Licensing
Introduction to Teaching Presentations
Conducting and Evaluating Knowledge Development
Confined Water Training
Open Water Training
Continuing Education & Leadership Courses
Business of Diving
How to Teach the Recreational Dive Planner
During the IDC Curriculum You Will Learn:
Dive Theory Workshop
System's Workshop
Learning and Teaching Workshop
Discover Scuba Diving Workshop
Risk Management and Licensing Workshop
Knowledge Development Presentation Workshop
Skill Development Workshop
Confined Water Training Workshops
Open Water Training Workshops
Sales Techniques Workshop
What You Will Participate In:
Minimum of 2 Knowledge Development Teaching Presentations
Minimum of 2 Confined Water Teaching Presentations
Minimum of 1 Open Water Teaching Presentations
Demonstrate All 24 Skills
Minimum of 2 Standards and Procedures Exams
Rescue Exercise Unresponsive Diver at the Surface
What You Can Teach
As a PADI Assistant Instructor you will be able to:
Present knowledge development elaboration for any PADI diver course under indirect instructor supervision
Present initial skills training under direct instructor supervision during confined water dives
Conduct open water surface skill evaluations during the Open Water Diver course under indirect instructor supervision
Teach and certify Peak Performance Buoyancy under the direction of an instructor
Independently teach Project AWARE and Coral Reef Conservation
Independently conduct Discover Scuba Diving in a pool or confined water
Independently conduct Bubblemaker and Seal Team Aquamissions
After completing a specialty instruction course with a PADI Course Director teach and certify divers in specialty courses that do not include dives as well as Digital Underwater Imaging.
Duration
Candidates complete the independent study through PADI IDC eLearning. As with all PADI programs, considerations, candidate ability and the number of candidates in a course.
If the IDC eLearning is completed prior to the start of the course, then 3 days is all that is needed to complete the curriculum. If eLearning cannot be completed prior to class and must be delivered in person then the length is 5 days.
What Does It Cost?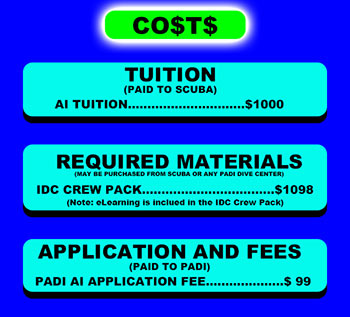 Prerequisites
PADI Divemaster, or leadership level with another diver training organization
18 years old
60 logged dives; documented experience in night diving, deep diving and underwater navigation.
Be certified as a diver for at least six months
Medical clearance attesting to dive fitness signed by a physician within the previous 12 months.
Have proof of CPR and First Aid training within the last 24 months. The Emergency First Response course meets this requirement.
If NOT a PADI Divemaster, complete the PADI Divemaster course dive rescue assessment and submit documentation of qualifying certifications for entry-level, advanced, rescuie, and leadership level to PADI.
See the IDC component for all required equipment and materials