PADI Divemaster Course
Do you have a deep and abiding passion for diving? Or, do you merely love it with all of your heart? Either way, you should consider doing what you love for a living; that's right – get paid to do what you love: become a PADI Divemaster. When you join the Tribe by becoming a PADI Divemaster, you align yourself with the largest and most respected dive tribe in the world – that of PADI Professionals.
During your previous courses usually during the Rescue Diver course, a light goes on and you tell yourself: I really like helping others and I wonder if I could make a living doing just that. Taking the PADI Divermaster course is your first step into the professional world of scuba diving.
PADI Divemaster Course
Looking for the first step in working with scuba as a career? Your adventure into the professional levels of recreational scuba diving begins with the PADI Divemaster program. Working closely with a PADI Instructor, in this program you expand your dive knowledge and hone your skills to the professional level. PADI Divemaster training develops your leadership abilities, qualifying you to supervise dive activities and assist instructors with student divers. PADI Divemaster is the prerequisite certification for both the PADI Assistant Instructor and PADI Open Water Scuba Instructor certifications.
What You Learn
During the course you will learn dive leadership skills through both classroom and independent study. You will complete water skills and stamina exercises as well as training exercises that stretch your ability to organize and solve problems as well as help others improve their diving. You will put this knowledge into action through a structured internship and practice training exercises.
As you progress through the course, you will expand your diving knowledge, hone your skills and increase your knowledge. Upon completion of the course you then get to lead, mentor and motivate other divers and experience the joy of seeing them transformed by the majesty of the aquatic realm.
What You Can Teach
Active status Divemasters are authorized to: supervise both training and nontraining-related activities by planning, organizing and directing dives, assist instructors during confined and open water training, guide open water divers on tour portions of dives 2-4, accompany open water divers on surface swims to and from entry points, accompany student divers during Adventure dives, independently teach and certify skin divers and seal team skin diver aquamissions, conduct Discover Snorkeling, conduct subsequent dives for DSD divers, conduct Discover Local Diving, conduct ReActivate for certified divers, if a PADI DSD Leader independently conduct DSD programs in confined or confined open water and after they complete specialty instructor training with a course director teach Digital underwater Imaging, Emergency Oxygen Provider, Project AWARE and Coral Reef Conservation.
Duration
We at St. Croix Scuba will ask that you complete the Divemaster Online program which generally takes between 15-20 hours. The intern and practical sessions along with water skills/stamina take typically 6-7 days. PADI programs are performance based so actual completion times may vary.
What Does It Cost?.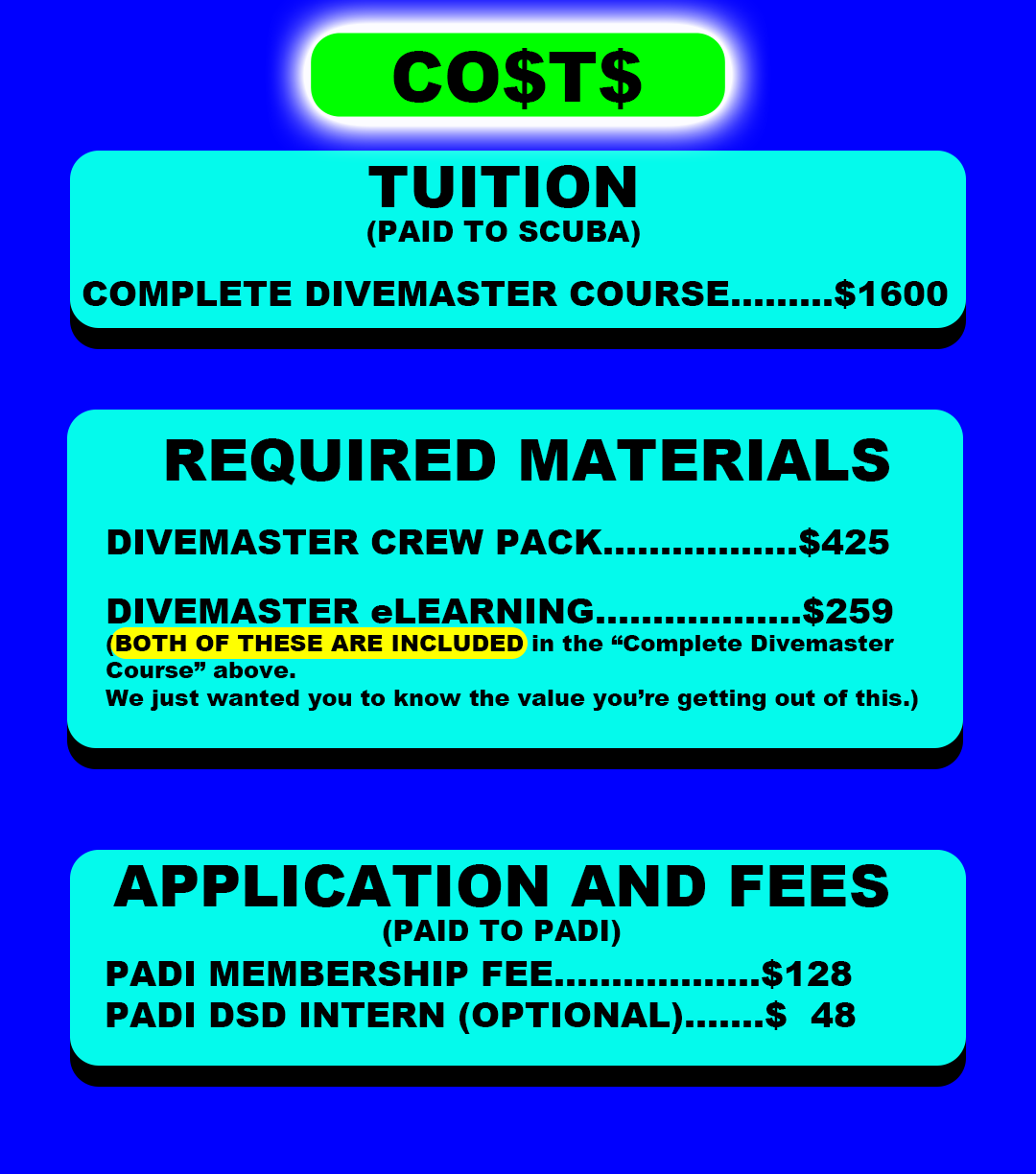 Prerequisites
To qualify for training as a PADI DivemasterBe, you must:
Be aPADI Advanced Open Water and PADI Rescue Diver certifications (or qualifying certifications)
Be at least 18 years old
Have 40 logged dives; documented experience in night diving, deep diving and underwater navigation.
Posses a Medical clearance attesting to dive fitness signed by a physician within the previous 12 months.
Have proof of CPR and First Aid training within the last 24 months. The Emergency First Response course meets this requirement.
Exit Requirements
Emergency First Response Primary and Secondary Care course completion (or qualifying training) within the last 24 months
60 logged dives; documented experience in underwater navigation, night diving, and deep diving