PADI IDC Staff Instructor Course
As a seasoned PADI Instructor, you have wisdom and experience to share with up-and-coming PADI leaders.
And, you know that continuing your education never ends.
Instructor Development Course (IDC) Staff Instructors are super certified assistants working hand in hand with the Course Director to create the next generation of PADI Instructors while gaining in-depth instructor-trainer knowledge.
What You Learn
During the IDC Staff Instructor Course, you will learn how to evaluate Knowledge development, confined water and open water teaching presentations as well as develop familiarity with the IDC curriculum.
You will refine your theory knowledge as well as learn to assist in specialty instructor programs.
During the course you will take the Theory and Standards Exams, skill circuit evaluation and present a knowledge and confined water presentation to re-acquaint yourself with the process.
What You Can Teach
You will independently teach and certify PADI Assistant Instructors, conduct IDC stating segments while the Course Director is available on premises for consultation, evaluate and critique all IDC candidate teaching presentations, provide counseling and remedial training for candidates and play integral role in continuing education programs.
Duration
The IDC Staff Instructor Course is roughly 8-9 hours preceding the audit of an IDC.
What Does It Cost?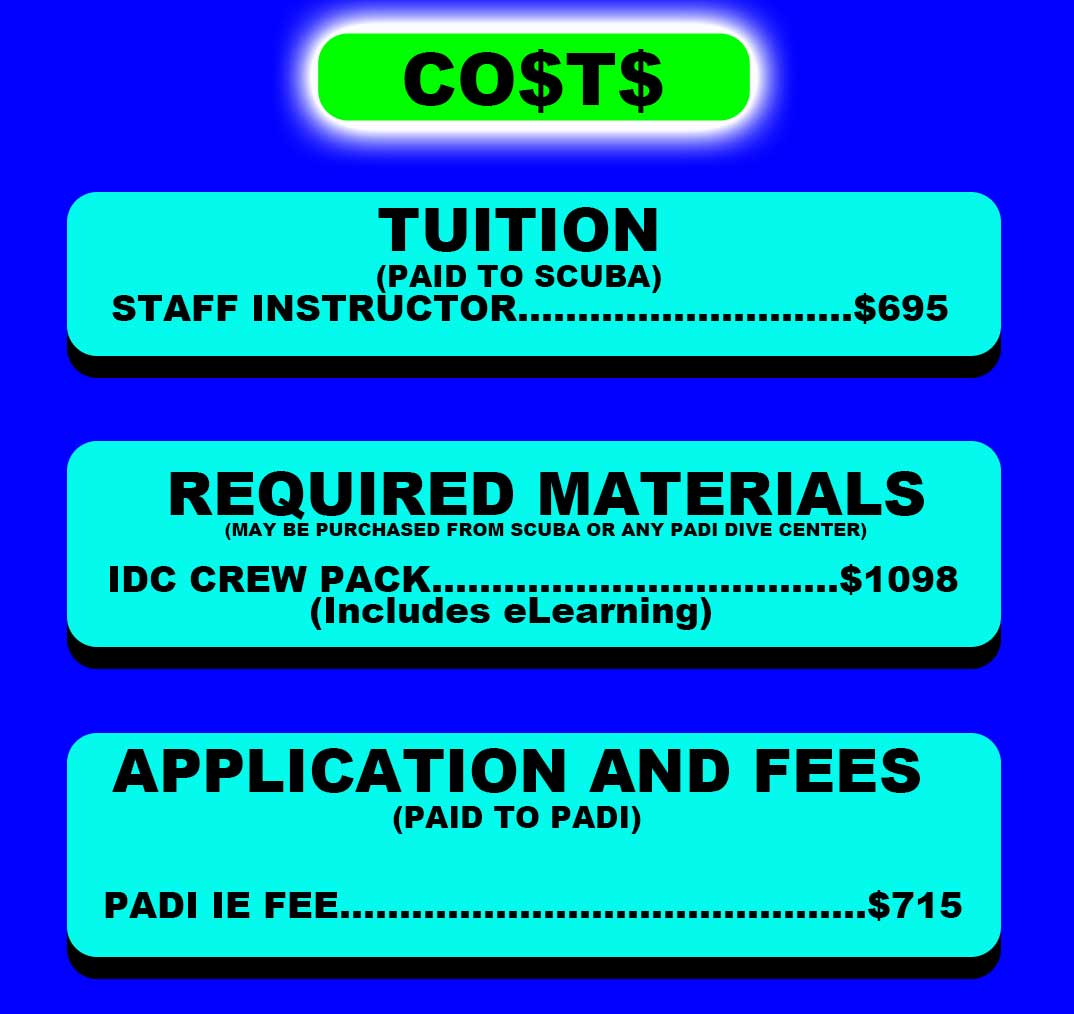 S
Prerequisites to Attend the IDC Staff Course
Teaching status PADI Instructor for current year
PADI Master Scuba Diver Trainer
Emergency First Response Instructor
Agree to conduct all levels of diver training consistent with the standards and philosophy outlined in the PADI Instructor Manual and PADI;s Guide to Teaching
Agree to use the PADI System and its components in their entirety
Required Materials for a Complete IDC Staff Course
PADI Course Director Manual
Confined/Open Water Evaluation Slate
Skill Evaluation Slate
See the IDC component for all required equipment and materials