St. Croix Restaurants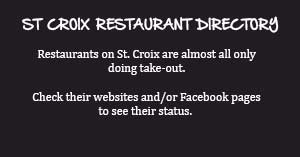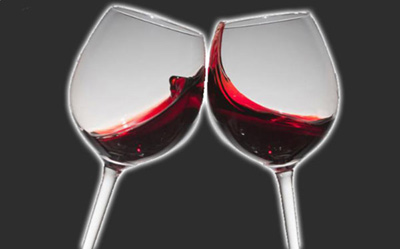 St. Croix is truly blessed to have a LOT of excellent restaurants.  Ranging from 5 Wine Spectator Award winning restaurants to fast food joints, and everything in between.  We really have it all.
We have listed many of our favorite restaurants below.  This is by no means a complete list as we can't eat out 3 meals a day, but it does represent many of the ones we know and love.
We strongly advise checking a restaurant's website or Facebook page to make sure of their operating hours and other changes that are just too many for us to keep up with.  This is especially true during summer and fall months.  
If you're diving with us (and why else would you be on this wetsite?) our crew will be happy to tell you about their favorites and steer towards various nightly specials that they know about.
Fine Dining Restaurants on St. Croix
---
40 Strand Eatery
340-201-8633
Visit their website
Strand Street at the Club Comanche Hotel
Dinner Monday-Saturday plus a great Saturday brunch
 A cozy, urban, multi-award-winning Christiansted restaurant focusing on simply great food. They have a passion for sustainability and focus on locally sourced, fresh ingredients to bring the best food to the table, supporting the local island community.
---
Galangal

340-773-0076
Visit their website
Visit their Facebook page
Church Street in Christiansted
Dinner Tuesday-Saturday
Galangal specializes in French Asian Fusion Cuisine. Their bar features hand-crafted cocktails and an extensive wine list.

---
 

Savant

340-713-8666
Visit their website
Visit their Facebook page
Hospital Street in Christiansted about a block east of the Fort.
Savant's menu is eclectic with iconic house favorites.  They buy fresh fish and lobster daily off the boats from the local fishermen. The fresh fish has three preparations on the menu, is incorporated with curries, enchiladas, fajitas and with their daily specials. They focus on farm-to-table incorporating  local produce from island farmers–spicy mixed greens, tomatoes, cucumbers, edible flowers, and herbs all combine to create healthy, fresh and delectable dishes.
---
 Too Chez

340-713-8888
A beautiful courtyard and indoor dining setting in the heart of downtown Christiansted, serving classic cocktails and French cuisine with an American/Caribbean twist. This wonderful restaurant is run by the Kendrick's family who are iconic in St. Croix restaurants. 
---
  Zion Modern Kitchen


340-773-9466
Visit their website
Visit their Facebook page
The Quin House on King Cross street in Christiansted
A collaboration of old and new.  New chef, ideas & techniques + experience chef, classic dishes and tradition.  The menu features simple approachable well made dishes.  The same mantra is applied to the wine list and craft cocktails and beers.
---
Mid Range Restaurants on St. Croix
---
AMA at Cane Bay

340-227-3432
Visit their Website

Visit their FacebookPage
On St. Croix's northshore just east of Cane Bay Beach
A sustainable seafood restaurant focused on the foodways of the Americas.  They work with local farmers, environmentally responsible fishermen and divers for the direction of the menu. 
---
Beachside Cafe

340-772-1266
Visit their website
Visit their Facebook page
On the beach at Sand Castle on the Beach Hotel in Frederiksted
Dining at the Beach Side Café is truly an extraordinary experience. Lunches are casual, breezy, and scrumptious, and dinner is simply a magical moment wrapped up into a perfect evening. The Iguana Lounge features daily Happy Hour specials and small plates to accompany your favorite cocktail. 
 Blues Backyard BBQ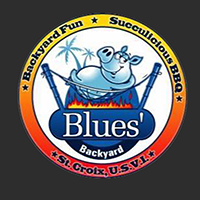 340-514-2541
BBQ Brisket, Pork & Ribs. Also serving 1/2 lb. all beef Burgers and Hot Dogs, Fish, Burritos, Homemade Chicken Pot Pies, Italian Sausages fabulous homemade desserts and daily specials.
Live music Fridays 5-9pm Call for schedule of Friday & Saturday (afternoon) Backyard concerts.
---
Brew STX

340-719-6339
A restaurant, bar and microbrewery located right on the Boardwalk in Christiansted with a great view of the harbor.
Lunch and Dinner featuring burgers, salads, lobster rolls, salad or rice bowls, steaks and fresh seafood. 
---
Bombay Club

340-773-1838
Visit their website
 King Street in Christiansted
Located downstairs in an historic Danish townhouse in the heart of Christiansted. Dine in air conditioned comfort for lunch or dinner. Select items from the table menu or choose one of their daily specials which include fresh lobster, steaks, soups, quiche, freshly prepared salads, pasta, fish and more.
Open seven days a week, serving lunch Tuesday – Friday and dinner 7 nights a week.
---
Cafe Christine
340-713-1500
Visit their Facebook page
Lunch Mon-Fri 11:30a-2:30p
In Apothecary Hall on Company Street in Christiansted.
Specializing in homemade French-Inspired cuisines, using local products. 
---
Cheeseburgers in America's Paradise

340-718-1118
67 Southgate just east of Christiansted
Serving lunch and dinner everyday.  Daily specials and fresh seafood.  Full bar and specialty frozen drinks.  Live entertainment on the weekends.  Casual atmosphere and moderate prices. 
---
 Dashi

340-773-6911
Visit their website
Right outside of SCUBA's back door in the Caravelle Arcade in Christiansted.
Specializing in sushi and asian cuisine. Offering a funky indoor air-conditioned dining room and bar and covered outdoor dining in a garden setting. Large variety of sushi, classic combinations and interesting creations. Also offering full menu of appetizers, soups/salads, and entrees with an asian flair.  
---
Deep End Bar and Grill

340-718-70178
In Tamarind Reef Hotel, 5001 Tamarind Reef
A casual yet classy beach bar with a beautiful view of the Caribbean Sea, white sand beach, and an abundance of friendly faces.

It is an open-air restaurant on the beach next to the hotel's swimming pool.  Serving breakfast, lunch and dinner 7 days a week.
---
Duggan's

340-773-9800
Visit their website
On the east end of St. Croix just before the Yacht Club
This is a legendary east end restaurant serving dinner and Sunday brunch since 1983.  Lobster and fresh seafood is their specialty.
---
 Goat Soup Whiskey



340-773-3333
Visit their website
Visit their Facebook page
In Coakley Bay Condominiums about 20 minutes east of Christiansted.
Utilizing locally sourced ingredients; specializing in, from scratch soups, sauces and desserts, as well as hand cut steaks, fresh seafood, and pastas.
Handcrafted cocktails, and thoughtfully curated wine list
There isn't a libation that won't compliment the beautiful Caribbean view. 
---
Lost Dog Pub

340-772-3526
12 King Street in Frederiksted a block from the Frederiksted Pier.  Serving the best pizza in town and now a full dinner menu. 
---
Louie & Nachos

340-772-5151
Visit their website
Vist their Facebook page
A new waterfront bar and restaurant on the west shore with an awesome view.  Right on Strand Street near the corner of Fisher street.
Tacos, nachos, burgers, salads, Sunday brunch and more.
Open 7 days 10a-10p
---
Luncheria

340-773-4247
2111 Company Street inside Apothacary Hall Courtyard
Casual mexican food with the best frozen margaritas on the face of the planet. 
---
 Maria's Cantina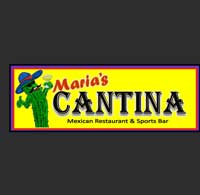 340-713-0222
Visit their website
In Gallow Bay just east of Christiansted
South of mexico influence with some Caribbean flair.
Daily specials & fresh seafood (upon seasonal availability) like lobster fajitas, Conch Salad, shrimp ceviche, Lobster Enchiladas & More
$2 Taco Tuesday with a different special every week. 
---
The Mill Boardwalk Bar and Brick Oven Pizza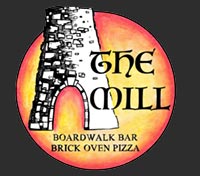 340-643-6455

Open 7 days a week for lunch and dinner
Right on the Christiansted Boardwalk.
The same great people who run 40 Strand and Toast have now opened The Mill, a boardwalk bar with brick oven pizza.
---
Nate's Boathouse



340-692-6283
Visit their website
Holger Dankse Hotel right on the Boardwalk.
Breakfast, lunch, and dinner 7 days a week.  
They have a bottomless champagne Sunday brunch.
Great view of the Boardwalk and Christiansted harbor.  
They specialize in fresh seafood dishes cooked to perfection as well as many other tasty treats.
Happy Hour 4-6pm daily with half price beverages.
Live music a couple of night a week.
---
No Bones
340-773-2128
Visit their website
Gallows Bay just east of Christiansted
The dining area is fun and comfortable atmosphere with booths and table dinning. There are also tables available on the porch, which can accommodate large parties. The bar and restaurant are equipped with several flat screens where you're likely to find your favorite sports team, especially if the Patriots are playing. The reasonably priced menu and daily specials with delicious offerings that change each day and evening, make this a popular spot with locals and visitors alike. 
---
R.A.W. Rum and Wine Bar and Restaurant

340-643-4729
Visit their Website
Visit their Facebook page
On the ground floor of Club Comanche hotel and across the street from 40 Strand Eatery (same company).
Dinner nightly except 
Eclectic historical atmosphere, serving craft cocktails, wines and rums, fresh local fish and seafood, mouthwatering sous-vide steaks and chicken, and flavorful vegetarian/vegan options.
Sushi night on Sundays.
---
Rhythms at Rainbow Beach

340-690-9282
A 15 minute walk or short drive from Frederiksted.  Located on a wonderful white sand beach with amenities and watersports and live music on the weekends.
Lunch and Dinner Menu features Appetizers, Salads, Sandwiches and a Kid's Menu. Daily Chef's Specials! Open for Lunch and Dinner, daily at 11am. Full Bar is stocked with anything you desire, especially the best Island Rums. Known for delicious burgers and specialty Frozen Drinks - Lime in the Coconut is the local's favorite!  
---
Rowdy Joe's

340-725-5730
Located just minutes from Cane Bay on St. Croix's northshore.  
Open noon till midnight 6 days a week. Closed Wednesdays 
---
Rum Runners

340-773-6585
Visit their website
Open for breakfast, lunch, and dinner every day plus Sunday Brunch.
There's also the attached Deck Bar serving light bites and great drinks with a wonderful view.
Right on the Boardwalk at the Caravelle Hotel in Christiansted. 
This is where you'll find the SCUBA crew a LOT.  Our boat docks right in front of the hotel. 
---
Salt Great Pond
340-718-7258
Hartmann's Estate a few minutes east of Christiansted.
Locally inspired cuisine with a new twist and the freshest ingredients. Locally crafted beer, fresh squeezed cocktails, great wine selection.
---
Smoke STX
340-713-9494
Strand street in Frederiksted a couple of blocks south of Scuba.
BBQ and bottle shop doing mostly take-out but there is seating in their courtyard.  You can also pickup your BBQ meal and take it up to Louie and Nachos for the view.  They're co-owned so there's no problem bringing your meal up there.
---
Shupe's on the Boardwalk

340-773-3400
Right on the Christiansted Boardwalk featuring burgers that are handcrafted in house using the highest quality cuts of beef to ensure exceptional flavor that is fresh, never frozen.  More than just burgers though, they offer hand cut fries, house made veggie burgers, and extensive selection of chicken wings & sandwiches.
---
Sion Farm Distellery
340-690-9322
The home of Mutiny Island Vodka, locally sourced and made from breadfruit.  The tasting room (where you can also watch the vodka being bottled) has a small menu of great lunch and early dinner foods.  And of course you can try the many flavors of this vodka which will, in our humble opinion, be the best you've ever tasted.
---
Toast Diner

340-692-0313
Great Venezuelan themed breakfast and lunch counter in the Pan Am Pavilon in Christiansted just a few steps from SCUBA. Owned and operated by the 40 Strand group of restaurants. Large menu including arepas, breakfast items, sandwiches, and more.  Great cocktails too.
---
Turtles Deli

340-772-3676
Deli on Strand Street in Frederiksted just a couple of blocks from the Frederiksted Pier and our westshore dive shop.

Serving lunch 
---
Un Amore

340-692-9922
Visit their website
5 Corners (near Christiansted)
Open 5:00p-9:30p Tuesday-Sunday
Hand made pastas, pizza and traditional Italian fare, classic dishes as well as fresh fish and lobster. Thoughtful wine list with many by the glass and full bar.
Frank and Katherine Pugliese are long term St. Croix restauranteurs and make the perfect combination of Chef and Host.
Wine Wednesdays (two for one bottles of wine) are always popular and if you're visiting and missing your furry friend be sure to stop in for Yappy Hour on Thursdays.  You'll find many locals and their four-footed friends enjoying themselves on the patio.
---
Uptown Eatery

340-713-3333
Wonderful lunch spot in downtown Christiansted operated by Dave and Jane Kendrick who've been iconic restauranteurs on St. Croix for decades.
The seafood picatta is the best on the planet hands down.
Open Monday - Friday
---
Ziggy's Island Market

340-773-8382
The funkiest gas station with convenience store, kitchen and tavern you'll ever find and it's here on the East End of St. Croix.
---
Local Restaurants
2+2
Cast Iron Pot
El Sol
Harvey's
Junies
Kim's
LaReine Chicken Shack
Singh's